Demolition Contractors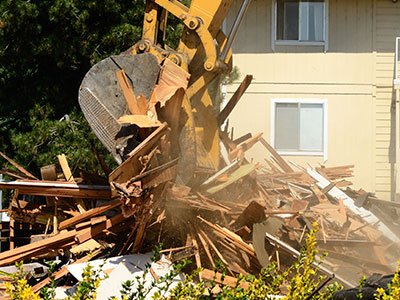 Real estate is valuable; but worn, tired buildings that are on the verge of collapse aren't. The land needs to be cleared completely before it can be utilized productively. However, if you want to clear the land, you require a good demolition company. They will safely clear the space, and ensure it's ready for your new project.

Mike Langley Excavating provides excellent and thorough demolition services in Bloomington, Unionville, Clear Creek, Ellettsville, Martinsville, Harrodsburg and in Spencer, Nashville, Bedford, and Monrovia. You can trust them to address the matter efficiently.


Different Types of Demolition Services
Demolition services are more versatile and comprehensive than people think. Yes, you destroy property, but there are different ways to achieve those results. Most demolition companies will offer services like those listed below:


Total Demolition – As the name implies, this is a total breakdown of the building. After the demolition team is done, there isn't anything aside from rubble left on the sight.


Partial Demolition – Sometimes, clients won't want to demolish the home entirely; they just want a particular area or section removed. That's partial demolition and it requires considerable amount of skill and the right equipment.


Mechanical Demolition – This is a slow, methodical way to dismantle the entire property with the use of cranes, rams, bulldozers, excavators, and wreaking balls. The contactor has more control over the demolition in this case and that leads to good results.


Implosion – This is a quick and easy way to demolish the entire property and reduce it to rubble in a matter of hours. During this method, explosives are attached to the support beams of the property. When these beams are destroyed, the entire structure caves in or implodes. This type of demolition requires some space so it's often used to demolish structures on larger properties.


Deconstruction – This process requires time, patience, and investment but it's one of the most eco-friendly ways to destroy a building. The property is dismantled piece-by-piece, which ensures the there's no cloud of dust and dirt. Some intact portions of your property can also be recycled or repurposed.


Debris Removal – The property wouldn't be ready for a new project if the debris isn't removed. Most demolition experts will have a fleet of trucks that would be able to transport the dust and rubble away to a safe dumping site.


How to Choose a Good Demolition Contractor?
Most people are concerned with budget because they want to save as much as they can on demolition. Property owners often choose to cut corners on this aspect of new building construction. However, it's vital to choose someone who would do a full and complete job. Here are some tips that would help:


Choose a company with all the relevant permits and licenses.
Make sure the contractor has comprehensive insurance coverage.
Ask for reference and find out who long they'll been a part of the industry.

If you want to ensure that demolition is done safely and without any problems, you need to hire skilled and experienced contractors like Mike Langley Excavating that take customer satisfaction very seriously.

"MORE ARTICLES"

Foundation Cracks
Excavating Contractors
Basement Waterproofing
Basement Leaks
Foundation Repairs

We Provide Services to the Following Cities and Towns in IN: