Foundation Cracks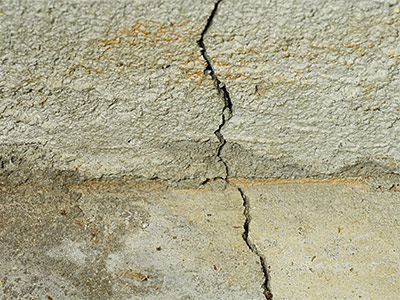 A cracked foundation can cause a number of problems and lead to expensive repairs. Unfortunately, it's also a very common problem and the repair work would have to be handled by a skilled contractor. Not all cracks can be repaired by over-the-counter crack fillers. Some need to be attended to by a professional who can excavate the area around the wall and remove the problem.

Mike Langley Excavating provides excellent and thorough foundation crack repair services in Bloomington, Unionville, Clear Creek, Ellettsville, Martinsville, Harrodsburg, as well as in Spencer, Nashville, Bedford, and Monrovia. You can trust them to address the matter efficiently.


Why Do Foundation Cracks Occur?
Cracks can occur for a number of reasons and some of these causes aren't avoidable. Foundation problems can develop even in the well-maintained home and the main causes are:


Shifting and Settling – Earth and soil underneath your property moves subtly over time. If a building isn't constructed well or if the foundation isn't laid properly, this shifting can cause cracks and other such problems.


Excessive Moisture or Dryness – Soil expands and contracts based on the amount of moisture present in it. Too much moisture can cause it to expand and apply hydrostatic pressure on the wall. However, if there's little to no moisture in the soil, it shrinks and causes a gap to form between the foundation wall and the soil. This manes the wall doesn't have enough support to bear the weight of the wall. This can cause cracks and damage as well.


Leaks and Floods – Leaks in the plumbing system can also cause cracks, because excessive moisture and water are the enemies of concrete foundations. If your basement floods due to a plumbing problem, you'll be sure to find some cracks and issues.


Heat – Concrete expands when it's subjected to high levels of heat and when that happens, it can crack. That's one of the reasons why you need to keep the basement well-insulated. Heat can cause big cracks, which can make basement wall repair very difficult.


Bad – Quality Construction Materials –If the foundation wall isn't built with good quality materials, it'll be more vulnerable to cracks and damage. That's why it's vital to use the best material you can afford, and never cut corners on the foundation construction. It's very difficult to repair or replace a foundation so it's better to be safe than sorry.


As you can see, there are many things that can cause basement problems and not all of them are avoidable. If you spot cracks in the foundation wall, you should call in an expert who would offer a comprehensive solution to the problem. You should also address cracks as quickly as possible because they can grow worse and widen over time. The more you delay, the more serious the problem will be. You'll save considerable amount of money if you act quickly.

If you want to ensure that your repair job lasts for a long time, you need to hire skilled and experienced contractors like Mike Langley Excavating that take customer satisfaction very seriously.

"MORE ARTICLES"

Excavating Contractors
Basement Waterproofing
Basement Leaks
Foundation Repairs
Demolition Contractors

We Provide Services to the Following Cities and Towns in IN: